Do Temple
Do Temple (Vietnamese: Đền Đô) is located in Dinh Bang Village, Tu Son District, Bac Ninh Province (about 20 km north of Hanoi), where the first emperor of Lý Dynasty (1009 - 1225) named Lý Thái Tổ (birth name Ly Cong Uan) was born in 974. Do Temple was built by his son in 1030, two years after his death. Then it was enlarged as seven of his descendants were also buried at the shrine. Hence, it is also called Lý Bát Đế Shrine (Vietnamese: Đền Lý Bát Đế - " Lý Bát Đế" means "Eight Lý Emperors").
Lý Thái Tổ was the King who moved the capital of Vietnam from Hoa Lu (now in Ninh Binh Province) to Đại La (today's Ha Noi) in 1010. Lý family was the founder of the Temple of Literature in Hanoi and the first national school of Vietnam.
Do Temple is ca. 31.250 m². After Five Dragon Gate (Ngũ Long Môn) is the Half Moon Lake (Hồ Bán Nguyệt). At the half-moon shaped lake stands a pavilion called Thủy Đình, where water puppet was performed, and it is used nowadays for Quan Ho singing.
The main hall of the shrine is used for the worship of the Lý emperors. The hall at the right (Văn Chỉ) is used for the worship of mandarin officers Lý Đạo Thành and Tô Hiến Thành. The hall at the left (Võ Chỉ) is used for the worship of generals Lý Thường Kiệt, Lê Phụng Hiểu and Đào Cam Mộc.


Entrance to the Do Temple: The Five-Dragon Gate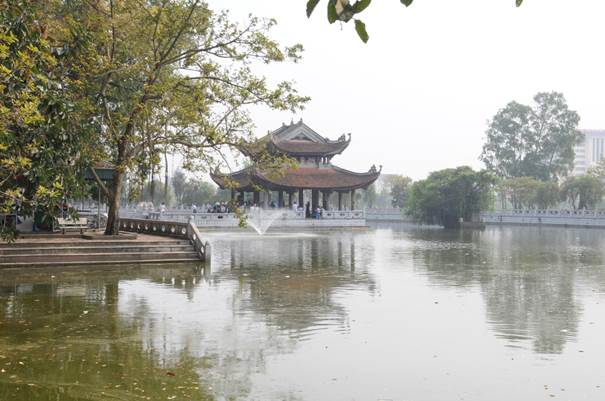 Water pavilion (Thủy Đình) at the Half Moon Lake (Hồ Bán Nguyệt)


The main hall (Chính điện) of Do Temple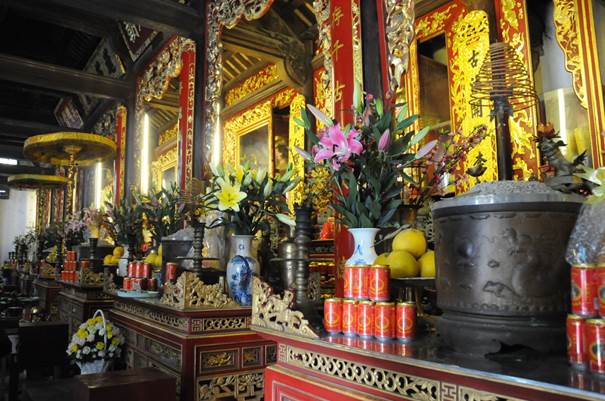 Altars for the eight emperors of the Lý Dynasty in Do Temple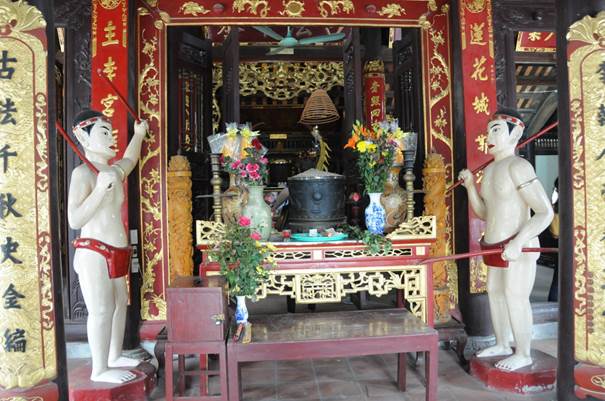 Altar for Lý Công Uẩn (Lý Thái Tổ, the founder of the Lý Dynasty)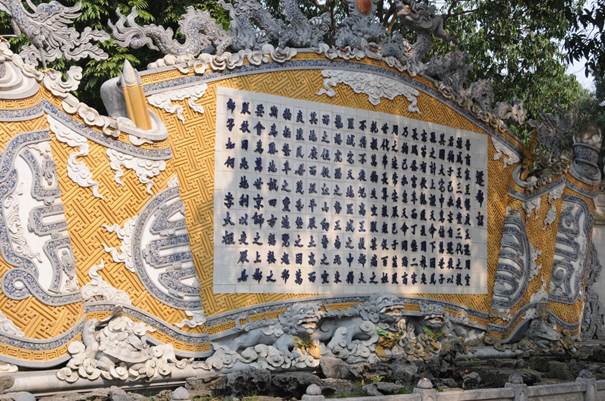 The Edict on the Transfer of the Capital (Vietnamese: Chiếu dời đô or Thiên đô chiếu, 3.5m in height, 8m in length, assembled from 214 characters made from Bat Trang ceramics) was issued by Lý Thái Tổ in 1010 to transfer the capital from Hoa Lư to Đại La (today's Ha Noi)