The ACOMP 2008 conference will be held on 12-14 March at Ho Chi Minh City University of Technology in Ho Chi Minh City, Viet Nam.
The Cultural City Ho Chi Minh
Ho Chi Minh City is formerly known as Saigon located in the south of Vietnam, which is one of the fastest growing countries in the Asia Pacific region. It is the largest city and also the business capital of the country. Ho Chi Minh City is also the center for education, science, technology, industry and tourism. Its climate is generally humid and warm all year round with two distinctive seasons: dry and rainy. In Ho Chi Minh City, most of the city's life take place on streets, where there are numerous of shops, markets and pavement cafe. Visitors to the city can enjoy various types of food coming from different parts of Vietnam.
More information about destination:
Transportation to Ho Chi Minh City
Tan Son Nhat is Vietnam's largest international airport. If you arrived at Tan Son Nhat airport, you can take No. 152 air-con airport bus.
Time required : 60 minutes
Working Time : 06:00 ~ 18:30
Running Frequency : Every 30 or 60 minutes
Bus Stop : Airport Bus Stop, 1st Floor of Airport
Ticket price is 3000 VND(approx. US$ 0.2 )
Terminal stop - Ben Thanh Market(center of Ho Chi Minh city)
Alternatively, you can take taxi. Taxis from the airport to the city centre take 30 minutes and cost US$ 5-7. Taxi drivers get commission for taking customers to certain hotels so when arriving at the airport be explicit about exactly which hotel you want to be taken to.
Coming to the HCM University of Technology
The conference venue will be at B4 auditorium block in the campus of the Ho Chi Minh City University of Technology.
Address:
268 LyThuongKiet Street, Ward 14, Dist 10
HoChiMinh City, Vietnam
The map of Ho Chi Minh City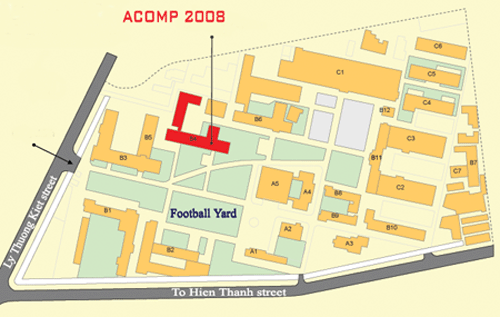 The map of Ho Chi Minh City University of Technology