Tower of Hanoi
Many people know the game named "the Tower of Hanoi" or "Hanoi Tower". Let us now mention it shortly. There's a collection of n increasing size disks and three piles into which you can put them (in the physical version of this game, you have three posts onto which you can put the disks, which have holes in the centre). The disks all start on the leftmost pile, and you want to move them to the rightmost pile. The rules are

transferring only one disk at a time, and
never putting a disk on top of a smaller one.

The middle pile is only for intermediate storage.

What is actually the Tower of Hanoi? Please have a look at the following photos. They show the so-called "Thap Rua", translated "Turtle Tower".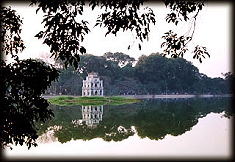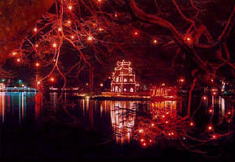 "Thap Rua" is lying in the middle of Ho Hoan Kiem (Ho Guom) - Lake of the Returned Sword.
The lake was once called Luc Thuy or Green Water because the water was green year round. In the fifteen century, the lake was named Ho Hoan Kiem, based of a very well-known legend.

While fighting against the invaders, King Le Thai To has in his possession a very valuable sword. After 10 years of continuous struggle, the King finally defeated the enemy and reclaimed Vietnam's independence. One day, while sailing on lake Luc Thuy, a large turtle appeared. The king drew his sword and pointed at the creature. The turtle immediately grab hold of the sword with its mouth and submerged. The king mourned the lost of such valuable sword, demanded that the lake be emptied and dredged. Both the turtle and the sword were not found. The king realizing that the gods must have lent him the sword to drive back the enemy, but now that Vietnam is free, the sword must be returned. King Le Thai To named the lake Ho Hoan Kiem or Lake of the Returned Sword.

A really exciting news coming from the lake of the Returned Sword is the reapearance of turtles. Two turtles appeared on the surface of Hoan Kiem Lake every four minutes from 6 to 8 am on October 22, 1999, a few metres far away from the Lake's bank opposite 39 Hang Khay Street. This is the seventh time of this year that turtles have been seen on the lake. Full story can be reached at the Nhan dan Newspaper in october 23, 1999.